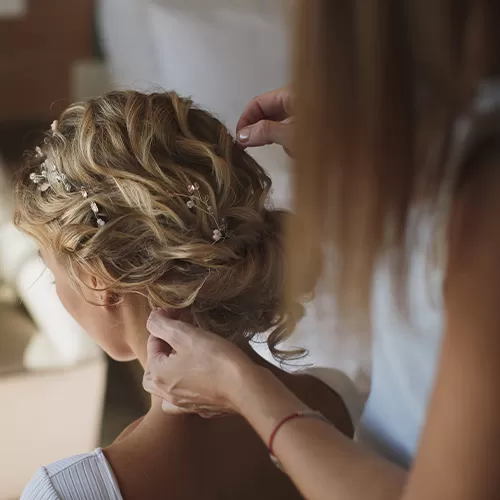 It's one of the most special days of your life and you want all the details to be perfect!  The professional stylists at Salon De Cheveux understand! We are specialists in wedding and bridal hair styles of all types - from sophisticated updos to soft flowing tousled romantic styles.
Schedule a bridal hair and makeup consultation with one of our experienced stylists. Bring photos of your dress as well as photos of your favorite bridal hair styles to your appointment, and we will work together with you to create a custom look that will turn heads on your wedding day.
15% off any Mirabella purchase for the Bride and the Wedding Party
Ask About Bachelorette Party Packages!
Customized to your party's personality, can include a fun filled early evening of Mani/Pedi Combos or get ready for the exciting evening with Club Hair Styling and Evening Makeup Applications.
---
Bridal Packages
Bridal 1 150
Bridal 2 $260
Bridal 3 $325
Bridal 4 $394
Bridal 5 $460
Bridal Party Packages
Bridal Party 1 $85
Bridal Party 2 $150
Flower Girl Packages
Flower Girl 1 $25
Flower Girl 2 $35
Groom Packages
Groom 1 $43
Groom 2 $82
Groom 3 $148
Groom 4 $217

 
Lash strips can be purchased for $15.
18% Gratuity will be applied to all packages.
All Pricing in this menu reflect In Salon Services.
FOR ON SITE WEDDING DAY PREPARATIONS (locations more than 10 miles from salon) please add ___% and reasonable hotel accommodations if necessary.
FOR EARLY PREPARATION (before 8am) please add $25 per stylist.
FOR HOLIDAY WEDDING DAY PREPARATION, please add 15%
In Order to officially reserve the date of your service, a contract must be signed. For bridal services, if a consultation is scheduled, a temporary hold will be placed on your event date until the consultation has occurred. If another client is interested in booking the same event date, you will be contacted and given the first right to reserve that date.
50% Non refundable deposit required at date of booking and a 14 Day cancellation notice required in writing.
All Payments, Deposits and Final Balance Due will be made by cash or credit/debit card. The balance will be paid on or before the time of service.
All cancellations must be made in writing and all deposits are non-refundable. The full fee will be processed for all appointments not kept or changes without 14 days of notice of cancellation